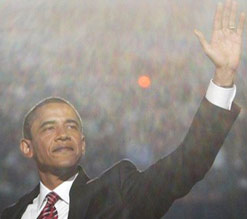 The enduring image for me will be two women at my work embracing each other, tears in their eyes, saying to me "finally I can be proud to be American."
It was a magic moment and I was glad to witness it in my lifetime.
Thank you.
And to give McCain his due – it was the most gracious concession speech I've heard in a long time.  Impressive.
It feels like a new world.
And what's that feeling I'm having… um… haven't felt it for a while… oh I know…
hope.