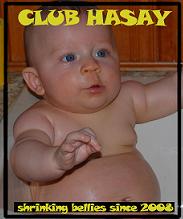 Club Half As Small As You is the brainchild of Casey.
My journey with Club HASAY so far…
The idea is that participants start to do the right thing and you know – eat good food and exercise.
And then – and this is the good bit – encourage each other to keep ON the wagon.
As part of that I thought I'd add a blogroll of all the HASAY members.
Please let me know if I've missed you.