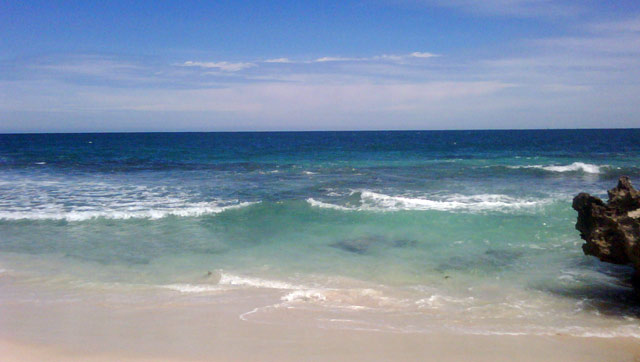 I am doing a storytelling course (Barefaced Stories) at The Blue Room Theatre with Margot Leitman (check out one of her stories on The Moth).
Eight sessions and at the end we will have a polished story.
Each session we have homework.
The first assignment – "do something outside your comfort zone".
This required some deep thought.
Then I remembered the time Groover and I  – in our 20s when we had hot (ish) bods – stripped off and drove naked down West Coast Highway – at least until the adreniline wore off and we thought about all the what ifs… what if we broke down? What if we get pulled over by a cop? And we quickly scuttled back home.
So I thought okay, let's up the ante and go for a swim at Perth's favourite nude beach – luckily not far away – Swanborne – public nudity.
First question… what does one wear to Swanborne because clearly you can't rock up nude – does one wear bathers?
I decided to wear my bikini, as it seemed appropriate, and with towel and sunblock in hand casually strolled down the beach.
OMG!  There are naked people there!!
First thing I saw from a distance was the silhouette of a man and let me tell you he was hung.
Second question… where do I sit?
I don't want to sit too close to anyone else but I do want to get the Swanborne experience so I don't want to sit completely on my own and I don't want to sit up by the dunes as I figure the creepy guys hang out there perving, so I plonk my stuff down in the middle and undress.
Well that feels a bit weird and as I slide my bikini bottoms off I'm thinking some trimming might have been in order but it's too late now.
Lying on the beach I'm conscious of what everyone is doing.
People are moving between groups chatting, there's a very tanned girl to my right doing a job interview on her iPhone, and there are people – clothed people – walking by all the time.
But I can't lie on the beach forever – for one thing I can't stay out in the sun too long and for another – well a swim is part of the challenge.
So choosing my moment I stand up and walk into the surf.
The water is cool, the surf a bit dumpy but this is no time to get into the water gingerly.
Before long I am enjoying my swim and getting chatted up by a tanned fellow in his mid forties who turns out to be the pilot of our flight home last Sunday – I kid you not.
Anyway I go back to my towel and air dry.
I notice that I'm possibly one of the younger women on the beach – hard to tell as all the women have VERY dark tans – and also, I'm not that uncomfortable.
And I notice the men – it's hard not to.
One guy I swear has more metalwork "down there" than the Bunnings tool section.
Another guy has tats all over his body – except "down there" and frankly who can blame him.
There are men of all sizes – and that's when I realise that actually there are way more men than women.
Why did that surprise me?
I get dressed and get up to go and as I'm leaving the pilot starts chatting to me.
Now that feels a bit weird… chatting to a completely naked man while fully dressed on the beach.
Anyway we chat for a bit and I'm thinking well this will make a great addition to my story when…
Groover walks by!
OMG and I'm chatting to a naked man!
Anyway it takes me a while to catch up with the groovy one because by the time I noticed him he was about 20 metres away and the wind is whipping away my voice and hey, I'm not that fit so running in sand isn't very fast but eventually I catch up with him and we walk back  and I tell him about my experience and he remembers the pilot's name and I suggest that he might like to go in for a quick dip.
He (surprisingly) agrees and we have a little swim and then start to get dressed.
Do you want to meet the pilot I ask?
The pilot is now under his umbrella – still nuded up of course – but Groover says no.
I guess meeting a naked man on the beach is outside his comfort zone.
So this is the story I tell at my storytelling class and it goes down quite well.
The next day I decide to go back to the beach – because it was fun, there was quite a nice community feel to it and I was still on a high from the day before but it's different.
For one thing it is much windier so there are fewer people and there are only two other women.
That friendly community atmosphere has blown away with the wind and what is left feels somewhat seedy.
The pilot is there and comes over to chat but it all feels a bit wrong.
I go home after about 20 minutes and shower.
If I go back – I won't go alone.
Besides – I had my next assignment to do – " to stray from my routine".
Ah but that is another story.