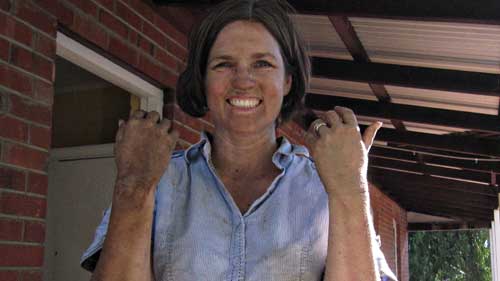 So you know I've recently bought a ukulele – "oh I so admire how you throw yourself at things" a friend observed.
Hmmm.
Well I do try things… but do I stick to them… not so much.
(well apart from the organisation I work for… 22 years!)
Here's the list of short courses/hobbies that I can remember starting in the last say 17 years:
Ukulele – started this week – have sore fingertips through practice!
Cello – started when son was 3.  No formal lessons. I can't play it
Italian – did lessons back in 1989, then CDs in 2005.  Can't speak Italian except for swear words.
French – went to Alliance Francais once or twice.  Still crap at French.
Horseriding – did this for about 6 months at Claremont Showgrounds.  Still have jodphurs.  Lost my helmet.
Teddy bear making – have made two teddy bears.
Sewing – have a big pile of fabric that I will one day make into something… maybe.
Knitting – made jumpers and hats for kids when they were tiny. 
Belly dancing – have still got the jangly outfits.
Ballet – needed to work on my pelvic floor post children for this to continue.
Ballroom dancing – Mr Cha Cha's ballroom at Perth Festival back in 2005.
Shorthand – thought it would be useful – managed 2 weeks of course
Religious studies (through Open University) – thought it would be interesting – didn't hand any assignments in
Archeology- went on a dig – thought about doing a post grad.
Theatresports – great fun last year with Spontaneous Insanity
Zumba – oh yeah I went a few times – I was going every week.  And then they closed the hall.
Storytelling – started in January with Barefaced  – love it.
Guitar – I was six months pregnant – it was hard to reach
Script writing – a short course I did in Bunbury a long time ago
Painting with pastels – did this a few summers ago with UWA summer school
Bridge.  Started in 1992 and still going (with a 10 year hiatus for kids) – good to see I stick at something.
Hmmm maybe I've just worked out why I don't stick at going to the gym and dieting…
This wasn't supposed to be a meme but what about you?
What's your list of things you've tried/are trying?