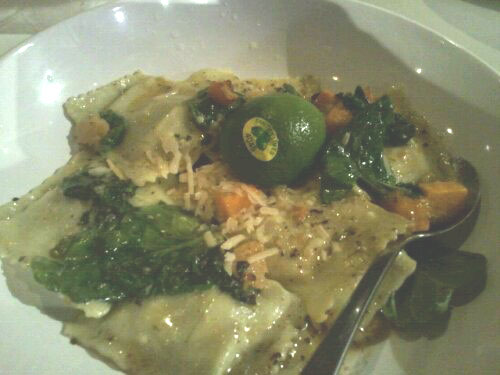 I went to dinner at Unraveled last night.
Took some doing.
Mainly because in my head I thought I was trying to book "Entangled".
Which isn't a bad name for a pasta restaurant I thought.
Anyhow I couldn't find a reference to my imagined destination online but I could find the number to the restaurant it used to be – The Twisted Fork – so I rang that number and we were in!
I think they call them selves Unraveled because that is how they present their menu.
You choose the pasta, the protein and the sauce separately.
So many of the sauces sounded delicious.
I tried the mushroom sauce with chicken and saffron linguine – which was a special kind of divine.
And the spinich and ricotta ravioli with pumpkin, preserved lemon and sage was also delicious.
The bread and butter pudding with white chocolate and raspberry – diet starts today!
The service – friendly and prompt.
My one question.
Should you take the sticker off the lime before you serve it?
Yeah.
That's what I think.