Warning: Rant alert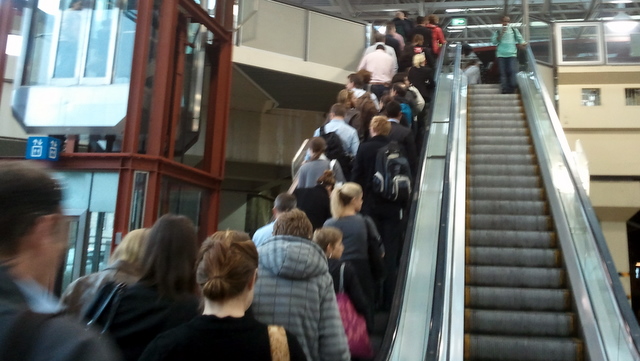 A foggy morning.
The rain splattered against the skylight in my bathroom so I knew it was raining.
Raining!
Deep happiness.
I walk into my bedroom to get changed and I can hear this weird rushing sound.
I check to see if the overhead fan is on… or maybe the reverse cycle air-conditioning.
No.
What is that weird sound?
It's coming from outside.
I check through the blind.
Oh.
It's the rain.
The pouring rain.
I'd forgotten what pouring rain sounded like.
Later…
The train was packed at a quarter to eight.
Standing room only.
And when we got to Perth Station the train disgorged its damp and steaming passengers into a mass of humanity.
It swelled at the bottleneck of the escalator.
Does this happen anywhere else in the world?
I have only seen it in Perth.
In London, in Washington DC, in New York, in Paris – much larger populations – the commuters flow like a river, a babbling brook.
But in Perth no – every morning – a huge swell of people trying to get on the escalator.
And here's why.
No-one stands to the left.
There is no fast moving lane to the right.
Crazy town.
It's the same on the roads, but don't get me started.
I would love it if someone could stand there – some official in a high viz vest and just educate my fellow commuters.
Stand to left, walk to the right.
It's a simple message.
And couldn't we have some posters in the trains or something?
We have posters for everything else.
C'mon Perth – it's not that hard.
You can do it.
Seriously.
You CAN do it.
Please?