How good is Bali?
It's just so relaxed and friendly.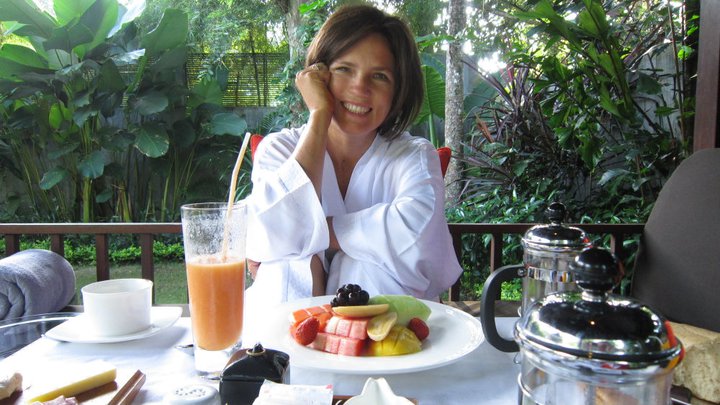 Okay I am staying in a luxury villa with hot and cold running butlers – which incidentally costs less per night than a dodgy motel in Karratha – but even so.
This morning we were woken by our butler carrying our picnic breakfast which he set up in our private gazebo.
We wandered out in our kimonos and chilled out with our tropical fruit juices reading the little "compilation" newspaper.
Then we went to central Ubud to the markets where it took a little while to get into the bargaining thing.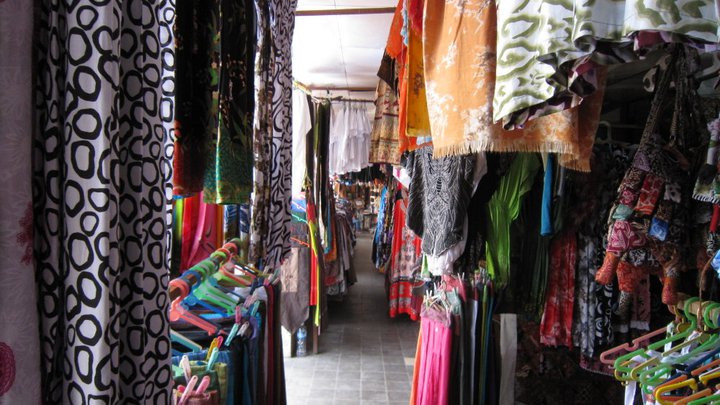 The exchange rate is terrific right now and I needed reminding that really I was talking the difference between 5 and 6 dollars for a dress.
We then went for suckling pig everyone tells you to try if you go to Ubud… opposite the Palace, don't miss it, you sit on grass mats, and the crackling is the best I've ever tasted…
Well I wouldn't go that far – I can make mean crackling – but the pork is delicious and the Bintang cool and refreshing on a warm day after an hours frantic bargaining.
We got back to the villa in time for a little swim in our private pool and relax before calling for the electric buggy to take us down to the spa.
Traditional Balinese massages for two please and go hard.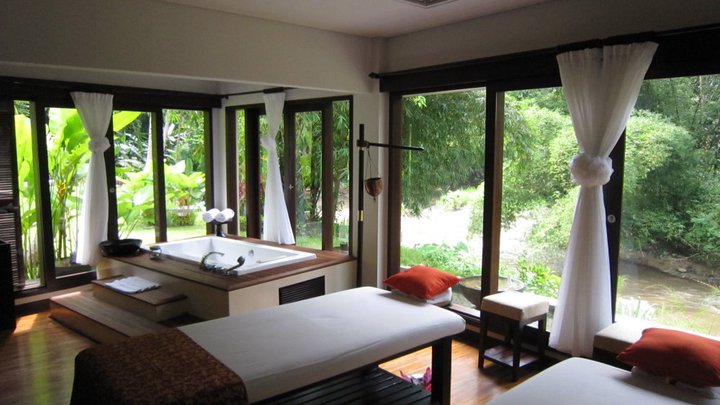 The massage room overlooks the Ayung River and the little black undies they give you are hilarious… more hilarious on Groover it must be said.
The massage was lovely.
Afterwards we grabbed umbrellas to shield us from the afternoon downpour and strolled among the frogs to the restaurant for afternoon tea – or in this case double shot espressos.
Then the buggy again to take us back to our villa.
Tonight we went to dinner at Mozaic – apparently the most famous restaurant in Ubud (probably after that suckling pig place the name of which I can't remember).
We had the discovery degustation menu and the premium wine selection which was gorgeous.
It is heaven here.
And you know what?
Some people live like this all the time.
Sigh.
Imagine that.