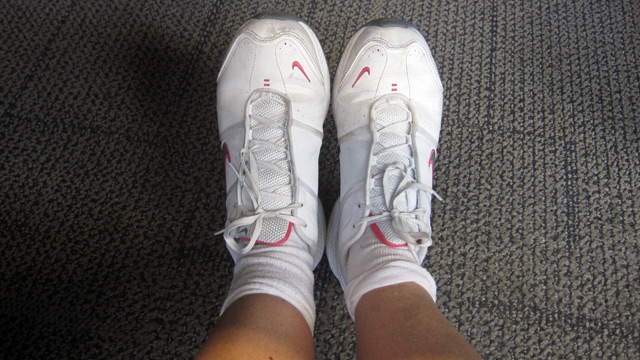 Following yesterday's post on my Zumba class, I received an email teasing me about being at the back of the class and it occurred to me that my Zumba class has very clear stratification.
The hard core Zumba-ists are at the front.
They know the routines backwards, they are for the most part – fit, and in halls where there are mirrors – they like to have a clear view of their hips shaking.
The HCZ's are the ones that volunteer to go on stage.
And they ALWAYS arrive early.
Next come the MILFS (or maybe that should be MYLFS).
These are the women whose eyesight, perhaps, requires them to be nearer the front, and who are less confident in their sexy moves… or less fit.
They are quite often late because they are busy on a Saturday morning sorting everyone else out.
But they are past being embarrassed about shaking their thing.
They have had children, lets face it, they are past being embarrassed about anything to do with their bodies.
Well, nearly everything.
They rarely lift their shirts in the wooah wooah bit.
Behind them, at the back are the said children, now teenagers.
They are chatting with their support buddies, and their perfect bodies and natural enthusiasm make up for any shortfall in following the choreography.
Last week I found myself at the back of the class (I was late,  having failed to convince my teenager that a Zumba class would be fun).
I was out of my comfort zone.
Next time, I'll make sure I get a spot in MILFworld.
Oh and the only bloke?
He's about second row – hard bodies in front, and close to the instructor.