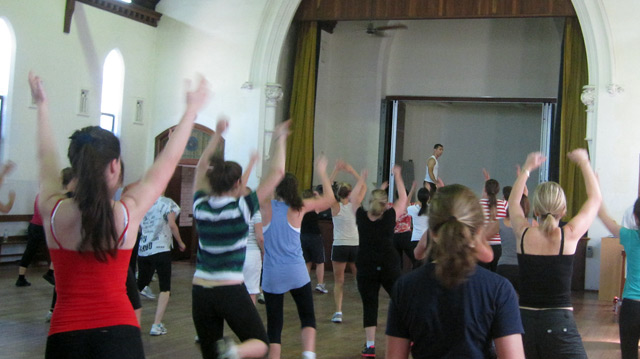 So every Saturday – except for next Saturday – you'll find me at the Claremont Town Hall in my combat shorts and singlet and special not very grippy sandshoes, shaking my wild thing to the Latin grooves of Zumba.
I just don't like those black legging things…
Zumba is a cross between a dance class and an exercise class.
Not as strict as a dance class – as you'll see from the size of the crowd there is not a lot of individual attention… and not as repetitive as an aerobics class.
The choreography is complicated enough to keep you thinking, but not too hard that you feel like a klutz.
By the second song I've usually built up a sweat and by the end I'm wondering where the time went.
Time goes fast when you're having fun – and I'm usually smiling my way through class.
That's good because it is practically the only exercise I get all week apart from walking to and from the train station.
Cellobella your name is SLACK.
And I thank goodness for my reconditioned pelvic floor every time I go to class.
I'm hoping one day to have the body of a Zumba instructor – a female one – they are hot hot hot!
In our class there is only one bloke and he stands at the front to get a good view.
Sigh.
Maybe I need to go to class more than once a week…
Zumba is usually followed by coffee with my Zumba classmate and then bridge.
And that, for the most part, takes care of Saturday.