Yes that would be us.
You would have seen us swilling Sav blanc… or was it Voigner… whatever – it was wet, white and in a glass and it went down easily with the best of the Western Suburbs at this year's Opening Night party for Art in Bloom at the Art Gallery of Western Australia.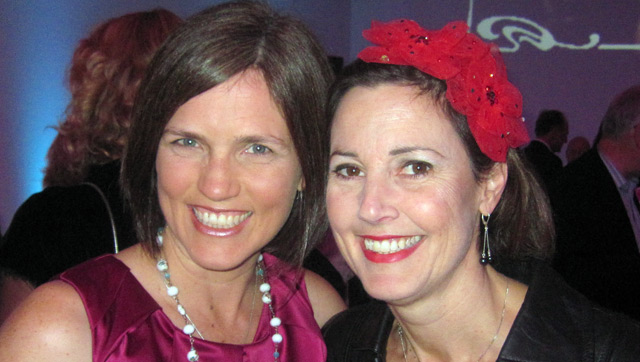 It's a great event.
Top wine, great clothes, fabulous company dahling oh… and of course the exhibition itself which is spectacular.
For the unitiated, Art in Bloom is where florists and artists from Perth are invited to create a floral display to complement an artwork from the Art Gallery of Western Australia.
The event happens every two years and is a big fundraiser for the gallery.
And it is beautiful.
I love seeing the different interpretations… it makes you see the art in new ways.
And some of the floral tributes are incredible.
Of course it is rare for a museum to allow things like plant matter into its hallowed halls.
Imagine!
There might be bugs crawling in them there roses… but somehow the exhibition has run ten times without damage to irreplaceable artwork.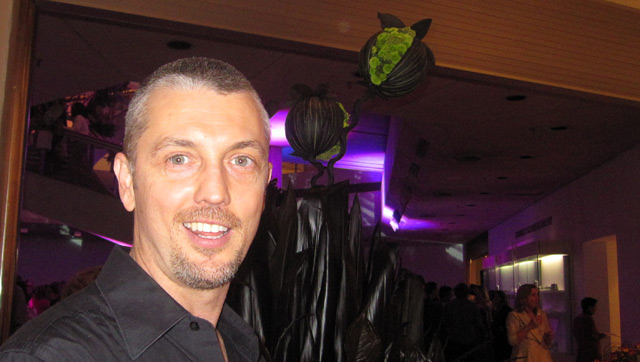 Of course quite a bit of wine was consumed and I confess I didn't spend a lot of time appreciating the art. 
This is a friend of mine from work who did a fantastic piece – incredibly complicated and impressive I thought – he said he had had to compromise but I couldn't see where. (btw he is not pictured in front of his work)
Stunning.
Then there were those pieces that encouraged audience participation…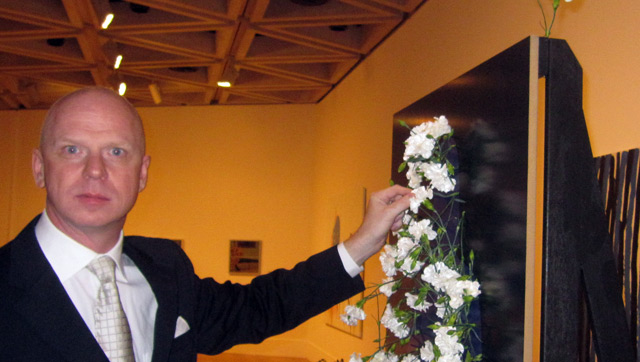 Goodness knows why he is looking so serious… I'm not sure how critical the placement of the carnation was…
At 9.30pm on the dot the lights came on and we were all encouraged to leave but luckily the head of the organising committee is a dear friend and invited us (or did we invite ourselves… it's a little hazy) to the after party where I had a lovely conversation with the wife of the head curator.
She was charming.
Afterwards, teetering on my high heels, we weaved our way through the underground bowels of the art gallery and found ourselves in the carpark.
A lovely night, a not so lovely hangover.
The social event of the season.