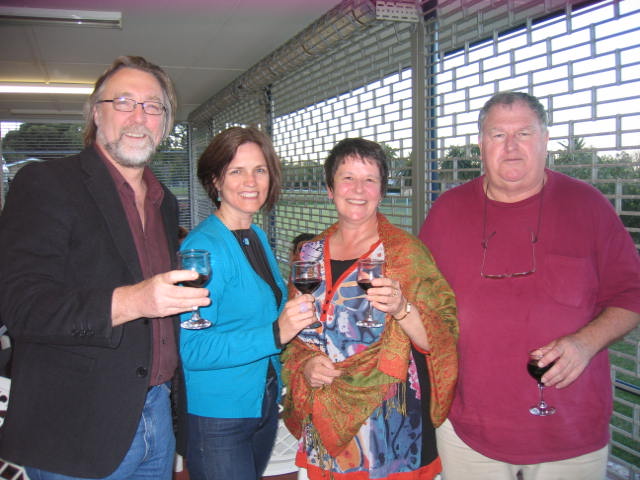 My long service leave is rapidly coming to a close and while I haven't been on any extended overseas vacations, retrained, or sorted out my love life, I have played A LOT of bridge.
Four or five times a week will see me pulling cards with the best of them.
The last two weekends have been two full days of competition.
First the Swan River Pairs where we didn't do that well… 56 out of 88 pairs… sigh.
And then in the last two days the GNOT finals.
This is the first time I've played in the GNOT – Grand National Open Teams – and up for grabs for the top three place getters a subsidized trip to the Gold Coast to play in the national play offs.
The GNOT's start off at club level.
We placed second in the Nedlands Bridge Club heats and so with 19 other teams from around Perth competed in the weekend finals.
The teams final was 8 14-board matches and going into the last round we were sitting fourth, one point behind third.
We figured a win would get us to Queensland.
I was terrified that I would choke at the last hurdle but a wine at lunch-time had mellowed into a slight headache and I think the Panadol steadied my nerves.
The last board ended up as me to make 6NT.
Pressure!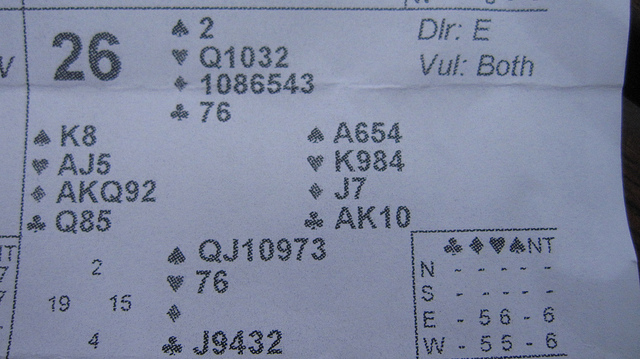 I get the queen of spades lead from South and I start counting tricks.
I can see 11 off the top and I need one more.
Plan A – the diamonds – surely the fifth diamond will come good once I play four rounds.
The bad news is delivered at trick 2 when South shows out – I can't even finesse for the 10.
Poop.
So thought is required.
I go into the tank for what feels like forever.
The hearts are my only hope.
I run the J which is covered by the Q and won with my K, now I play the 9 and let it run to North's 10.
The 8 of hearts is my 12th trick.
Yay.
The result of the match – we scored a maximum.
As did about four other teams in the last round, including the people lying second playing the team sitting first.
Overall we ended up second which means (exciting club) that we get subsidised to travel to Tweed Heads to play in the national finals in November.
OMFG!
How cool is that?!
All that bridge practice finally paid off.
(I've been told if we win three matches we'll have acquitted ourselves well.  I'm just happy to go… now I just need to talk to my boss about a couple of days off… worried look!)