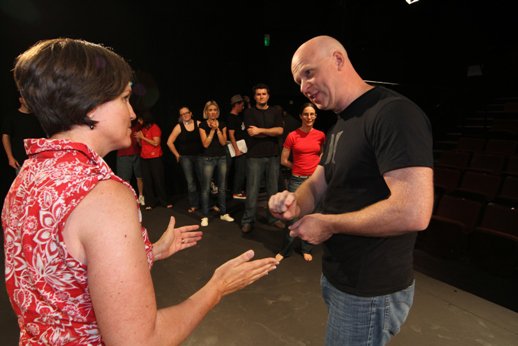 Jen asks me to get back to basics following my Life Lessons from Theatresports post so here goes…
Theatresports was created by a guy called Keith Johnstone.
First of all Theatresports is a vehicle for improvised theatre.
A mechanic.
Ah but what is improvised theatre?
Acting without a script would be the first thing that comes to mind.
Theatresports then gives you a framework for a show… and games to set up the improvisation.
For example – you could do a game called "n-words" – this is one of my favourites.
In this game each person is given a certain number and they can only say that number of words at one time.
It can be hilarious.
If you can remember that you only have a certain number of words to say!
Another fave is when two cast members speak in gibberish and the other two "translate" what they are saying.
And I love "sing about it" – even though I can't sing – here the MC calls out Sing About It during a scene and the actors have to make up a song on the spot.
I guess I love it because I can't sing but this gives me licence to.
Having said that, I never got to play it in the three nights I was on.
Sigh.
Another favourite is Half Life.
In this game you improvise a scene, then replay it in half the time, half the time again, and so on until you replay it in about 3 seconds.
It is a lot of fun.
You play in teams, but the competition is really for the audience.
Does that make any sense at all?
Suffice to say that it is a bit like stepping off a cliff – you have no idea what the night will throw at you – you just have to step off and go for it.
It is very liberating.
And isn't that what we do in life anyway?
** I don't think I've done that great a job – help anyone?