What a week!
Two funerals – which to be fair were both uplifting in their own ways.  An odd mixture of celebration and sadness and seeing people at their most real.
I do like this trend of personal funerals rather than the traditional church burials – you really feel you know the person.
As for mine?
I don't care.
Cremate me in a cardboard box and play Yo-Yo Ma's Bach Cello Suite 1 as you throw my ashes off the ridge at Ennuin (or wherever),  that'd do for me.  It's up to you. Funerals are for the living not the dead. 
I stopped to smell the roses on the way to work one day this week.  That's what funerals do for you.
It didn't smell but it did look pretty.
I wasn't going to talk about funerals today, but I guess they have been a big part of this week.
My crazy protein diet is still on.
Tomatoes and bacon for breakfast – my favourite breakfast and one I rarely have because… well it's bacon. 
But bacon is protein and therefore allowed.
I'm losing weight.
The girls are going.
Gee it's been fun having them.  I can see some lingerie purchases will soon be necessary.
Sigh.
But my waist is coming back.  Yay!
I might even be able to bear to buy some scales.
In other news, the other day I was in the city and came across a Free Iran protest.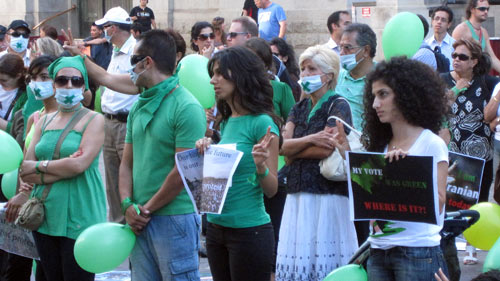 This I could tell from the banners. 
All the speeches were in Arabic so can't tell you exactly what the protest is about.
It made me feel good to be an Australian.
How we allow everyone to have their moment to speak publically about issues they care about.
I think we'd all like a free Iran.
So it's Valentine's Day tomorrow… have any plans?
I'm planning a visit to the beauty parlour – an annual overhaul?
I do hate going and have people fuss over me.
Yes I realise that that makes me less of a woman.
Let me check my care factor… oh… zero.
So I'm stealing myself for some major fuss.
Standby for a sleeker, browner, glossier Cellobella.
Just like me, but better.