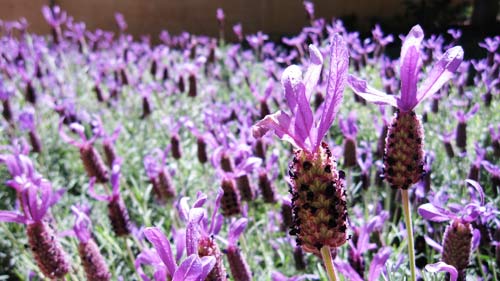 I sat opposite this lavender the other day, eating my Vietnamese spring rolls.
I was sharing the park bench with another woman who told me her life story.
She came from Sydney, about a year ago.
Her husband, a landscape gardener, had got a job and, as their kids had finished high school, they thought they would make the move.
On arrival the job didn't work out and she took a job doing admin at a training college until she could find something better.
It's been very difficult for her to find other work though. 
The boom time is long gone and so now she feels a bit stuck.
But she loves Perth.
The weather was particularly nice that day – the first really warm day – around 27 degrees.
She loves the fact there are so many green spaces in Perth where you can go for lunch.  It's not the same in Sydney.
At least not where she used to work.
After she left I took this photo. 
The lavender was buzzing with bees.