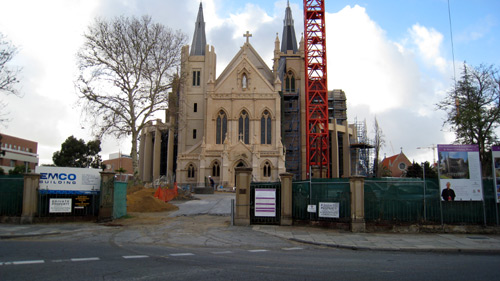 So what do you think?
This is St Mary's Cathedral in the centre of Perth undergoing extensive renovations and extensions.
As you can see the new look includes a very modern semicircular section around the front.  Long windows and curved pillars.
Very modern.
There's also underground parking and extensive offices.
It's a beautiful building, clearly not big enough for the congregation, hence the extension.
But…
But…
I don't know.
I'm not Catholic.
I guess I'd rather they make a wholly modern building somewhere else and keep the integrity of the older style.
I love the old cathedrals and churches of Italy and I can't imagine them doing this.
On the other hand I think the glass pyramid works quite well at the Louvre.
What do you think?