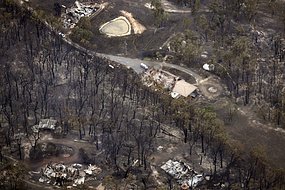 I'm new to Twitter and so if this sounds a little evangelical, a little newly converted, my apologies.
I've been following the fires in Victoria via my twitter feed, getting updates from 774melbourne and CFA.
And I really feel connected. As much from the official tweets as the more informal ones from other twitterers in the area.
I've also tuned into 774's emergency coverage on the stream.
The news is grim. Many lives lost, hundreds of houses, towns have disappeared.
At the time of writing this, 36 people have been confirmed dead.
And the fires continue.
13 minutes ago:
CFA advises people in the Dederang area to stay in their homes or head to a neighbour's . Implement your fire plan. It is too late to leave
I hope you are safe.