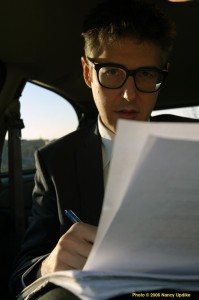 I don't think I've raved about a podcast on this blog before but seeing as I've bored all my immediate circle with tales from this podcast, it's your turn.
This American Life is a Chicago Public Radio program that Ira Glass (pictured) created back in 1995.
It is brilliant.
I wait impatiently all week for the next episode and the stories it contains.
It is so good I've done something I've never done before for a podcast – I've donated money to Chicago Public Radio to help keep it on air.
Yes I live in Perth, Australia and no I'm not American, but I do appreciate good story-telling and great radio and this podcast is both.
Each week Ira chooses a theme and collects stories – both written and collected to explore that theme.
Themes include Big Breaks (this week), Switched at Birth, Heretics, Music Lessons, Break-up and Matchmakers.
The podcast is free for a week after broadcast and after that you can download it from iTunes for a small fee.
Subscribe.
If you're not in radio you will LOVE the stories, if you're in radio – you will question your work.  I know I have.
My favourite story so far, and the one that I have been telling to anyone who will listen concerns a doll called Nubbins.
It's a story by Elna Baker called Babies Buying Babies, and it's on the Matchmaker's episode.  Definitely worth a listen.
And while you're on Elna's website – watch the fortune cookie story – very funny.
So that's all.  Just wanted to share with you some brilliance.
Have a good day.  🙂