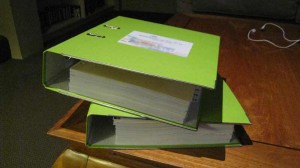 This year I was invited to sit on the WA panel to select the 2009 WA candidate for the Australian of the Year awards… filling in for my boss.
I felt completely unworthy to judge such amazing men and women and as I read through the applications – neatly filed for me – I felt even more selfish and callow.  And humble.
Anyway I made my notes and my shortlist and went along to the meeting in which we were to discuss and vote for our candidates.
We were upstairs in a board room at a city hotel and found ourselves with coffee in hand and mints at the ready sitting around a large U-shaped table… cabinet style.
The chairman sat at one end and explained to us how we would select the candidates.  First Australian of the Year WA, then Senior Australian, Youth and finally Local Hero.
First up we each put forward our top 5 shortlist.  Then after some discussion we had a second vote – this time giving 3 points to our top candidate, 2 for our second and 1 for our third.  Then we looked at the candidates again to make sure we were happy with the way the votes fell.
I was pleased to see one of my favourites make it into the top group.  Maybe I could do this judging thing. 🙂
It was a really rewarding day and I felt proud to be an Australian with all these fabulous worthy extraordinary people really contributing to my society and making Australia a great place to live.
Anyone can nominate anyone else and really, if you know someone who is worthy of recognition it is a worthwhile thing to do.  Next year's round will open around July 1, 2009.