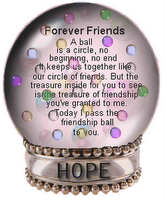 I've received some lovely bloggy bling recently and would like to thank Meg for this beautiful friendship award. It says:
A ball is a circle, no beginning, no end
It keeps us together like our circle of friends.
But the treasure inside for you to see
is the treasure of friendship you've granted to me.
Today I pass the friendship ball to you.
So who do I pass the friendship ball too… well this is tricky as so many of my bloggy friends already have this award.
I thought,this time, I'd pass it to some work colleagues who also blog…
James, Miss Fortune and Hotwater. Come on down!
Then I was awarded the You Cheer Me Up award from Lightening.
Wow, there are so many people who cheer me up!
Here are just five: h&b, thirdcat, Drew, Karen and TFP.
Pay It Forward
And to top it all off I'm playing Pay It Forward (thanks to Meg).
So here's how Pay it Forward works:

The Gift: Well I love reading and cards so… I thought for my gift I'd give either a pack of cards or a book, a novel.

The "Rules": Simply leave a comment on this post specifying if you'd like cards or a book and if a book which genre. However by entering you must be willing to run (or have already done so) your own Pay it Forward initiative on your blog IF you are selected a winner.
Closing: This competition will close on Thursday 20th March (2008) at 5.00 pm (Perth time).
Good luck!
Oh and just to finish… imagine getting the first question on Who Wants to be a Millionaire… wrong.