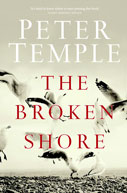 I first heard about Peter Temple on Matilda and then while I was frantically searching for something to read on the plane to Broome, my colleague mentioned him too. So I picked up The Broken Shore and started reading it on the plane.
The story is of a broken cop, "retired" in the town he grew up in, on a property gone to rack and ruin. He is called in to investigate the murder of a local businessman. There are racial tensions in the town, bent cops, it's grimy, grim and sinister.
Peter Temple writes in a very spare way and after reading the flowery prose of Daphne Du Maurier that took a while to get used to. I found myself getting lost and referring back a bit. It felt like a story I wasn't going to get into.
But I persevered and you know, I got into it. I was intrigued to find out why this cop was broken. I thought I'd guessed who'd done it and I wanted to be proved right. I wanted to see if he ever was going to restore his grandfather's house. I guess I started investing in the character. I wanted him to be alright.
At times it felt a bit "Wire in the Blood" ish. Some really gross stuff happens.
Overall though, I liked it and would probably try another Peter Temple. I like that he is Australian too.
Other reviews:
The Age, Dagger Award, First Tuesday Bookclub Forum, Mostly Fiction, Matilda.