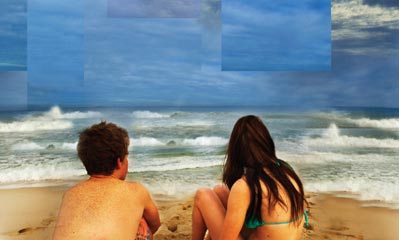 I'm always keen to see at least one original commission for the Perth International Arts Festival, and this year's re-imagining of Tim Winton's collection of short stories – The Turning – did not disappoint.
I'm not a huge Tim Winton fan it must be said. Cloudstreet was okay, The Riders woeful IMHO – I just hated the ending, and you might have read what I thought of Dirt Music – the one I've liked most so far. Short stories don't generally hold my attention so I haven't read The Turning and can't comment how faithful Bill McCluskey's rendition of it is but I think it must be pretty close because all the way through I'm thinking "oooh this is very Tim Winton."
Last year I went to see The Drovers' Wives and I don't know whether you caught this production – it was a dance piece reflecting Henry Lawson's work and it used film to project the setting of the outback.
Likewise The Turning uses video and film to carry some of the story and set the scenes – very effectively. In a few of the scenes a woman films herself as she's talking and that image is flashed up on one of the screens. Cleverly done. In fact the use of the film really does take the production to another level and I was intrigued by how well it captured the mood of the scene – important I suppose when you have a short scene and need to tell so much.
All they need to add is some of the smells – the bushland, the forest, the sea – to really take us there. That will be next I suppose.
The scenes though mostly dark and menacing are leavened by some almost Kath&Kim portrayals of West Australian characters. Ern, Cleo and Nan provided some much needed levity – with some classic lines:
It's not a fucking truck, it's a Landrover.

It is a truck and all we do is fuck in it!
Note:  If you are offended by "strong language" – don't go.
Groover's fave was:
Cut me off at the knees and call me tripod.
Some parts were so Western Australian, I cringed, and wondered how the production might travel – even to other parts of the country.
The music – like The Drovers Wives was by Iain Grandage – and it was lovely. Setting the scene without intruding. And the acting was fantastic. Especially Nick Simpson-Deeks who plays Vic and Alison Van Reeken who plays Gail/Jackie. Jai Courtney was also impressive as Boner. In fact the whole cast was good.
A couple of things annoyed me though. I don't know why he bothered to rename Albany, Angeles. I really don't. Every other town is named and really – how many other towns have had a whaling station on the South Coast? Irritating.
Also (and this was just me – Groover worked it out) I got confused because one actress played two of the main parts and I thought she was playing the younger her grown up. For those who have seen it – the Gail/Jackie actress is the one I'm talking about.
And finally it's just too long. 3 hours and 10 mins plus a 20 minute interval. Way too long. Was it Rogers and Hammerstein who insisted on cutting their shows to end no later than 11.00 so that people could catch the train home. Well we drove but the sentiment is a fine one. Cut it back by at least half an hour (though not sure what you would cut) and it would be perfect.
In summary, it's ambitious, completely Australian and entertaining. And if you get a chance to see it I'd be interested in your thoughts.
Will I read the book? Maybe.
Other reviews: Australian Stage Online, Guera