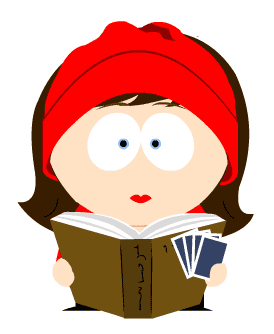 I wasn't going to change my theme for a while but then I won this groovy new theme called Revolution Pro and I just couldn't help myself but play with it.
I've been using Theme Test Drive to see how it looks and changing bits and pieces every night until it got to the point where I just wanted to look at my new site more than the old. Even though there are bits to fix and fiddle with.
So here you are world – my new look.
Revolution Pro makes use of things called Custom Fields for the images on the home page. Previously ignored by me in the past what you do is add say images in the custom fields and then call them up via CSS to appear where you want in relation to a specific post.
My new little logo I created at SP-Studio where you too can create your own little South Park character. I liked the way I could get books and cards into it – two of my favourite things. You might have seen an earlier version in an avatar I use around the place – it's a bit racier – I'm (it is) wearing a red bikini.
I downloaded some new fonts from Simply the Best Fonts just for fun too.
There are still a few to do jobs.
Look at changing the colour behind the H2 tag
Incorporate my Flickr feed into the blog posts – done!
Re-configure the sidebar on the blog posts
Reorganise the categories and decide whether or not to keep the sub-nav bar
Think about a redesign of the logo.
Try out other background colours – I'm thinking the red is a bit much… what do you think?
And there are probably more things to look at as I get into it.
I know there is a lot of controversy surrounding magazine style blogs so I'll be interested to read your feedback.
: )
UPDATE: You'll see I've already moved away from the magazine style – simply to make it easier for bloggers to navigate. I know I know seems a waste of Brian's lovely theme but I am using quite a lot of the elements. The review section in the sidebar for example, the flickr feed in the posts. If I could work it out I'd still have the home magazine page somewhere – but I'm having trouble with it…