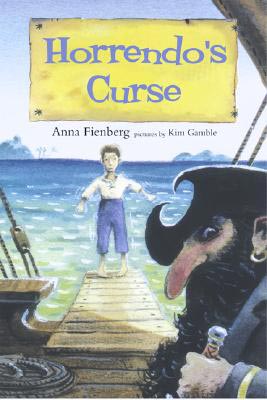 This little book by Anna Fienberg is charming. Aimed at 6-10 year olds I guess it has illustrations by the same guy that drew for the Tashi books – Kim Gamble.
The book is set in a village which is raided each year by pirates. They take boys aged 12 who endure two years of misery as slaves to the pirates. To help them survive the village school teaches them how to cuss and curse, how to fight, how to raise perilous pets.
The hero of our story – Horrendo – though is cursed with a Charming spell which leaves him unable to fight or swear or cuss.
If someone stole his lunch, Horrendo would say. "Oh dear, how hungry yuo must be! Why don't you take my chocolate cake as well?" Or if a person happened to race by and kick him in the shins, he would call after them, "So sorry, aren't I always in the way? Hope you didn't hurt your foot on my shin!"
I love the concept and I'm sure kids would too – in fact I'm hoping one of mine will read it too to give us their expert opinion.
*Anna Fienberg and Kim Gamble are featured in the PIAF Writer's Festival on Saturday afternoon.