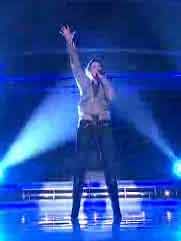 This Sunday on Idol, was it just me or did you think the stylists took inspiration from the nineteen eighties fashion wise.
First Natalie singing Ray of Light wearing what appeared to be a body stocking?! Either that or a very high g-string. I was surprised Kyle managed not to comment!
I'm not fussed on the song but it sounded alright to me. I didn't pick up her nervousness and thought she sang it really well.
(that said I was distracted half-way through by my daughter telling me she could see worms in her poo! Quite frankly anything would have been a relief after that!)
Carl's first performance I missed because I'd raced out to the chemist to pick up some worm tablets for everyone. No I didn't buy the chocolate ones. I just get too disappointed in the erky chocolate flavour. It just doesn't taste right to me. Groover said Carl did alright though. And he sounds okay in my headphones as I type this. He needs some dance moves though and not the one he didn't quite land.
I saw Matt singing It's Too Late as I was changing the duvet covers and pillowcases of my kids' beds. I don't like the song much but Matt did well. Sounds great in the headphones.
Part 2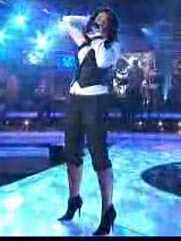 Natalie's second song by Pink was great I thought. Bit more serious. But knickerbockers!? Yes it's back to the eighties for the second time. Kyle went on and on about her little bootlets – he called them chicken feet. I liked them. What do you think?
She nailed the song.
Go Natalie!
Then we come to our THIRD fashion flashback to the eighties. I refer of course to Carl's leather tie. A red one no less in his second song.
I remember my boyfriend in the eighties had two. A pale pink tie which he used to wear with a black shirt. (sharp eh?) And a black tie which he wore with a black and pink checked shirt. (oooh baby!) I can remember grabbing hold of the black one at roller skating and snapping it. The things I did for fashion, people!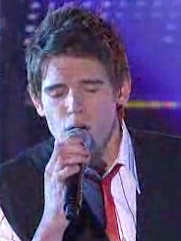 Now where were we… oh yes the leather tie…
Meh.
I thought he sang this just a tad too low. He was a bit breathy a bit all over the shop. The high note at the end was AWFUL.
But the judges didn't pick up on it. In fact did they say anything?
Yes Marcia we know you love Carl… anything else?
And then we were ready for Fashion Flashback Number Four!
Which was… the Boy George hat. Yes yes I know Dicko tried to make it sound like a Peter Doherty look but the smokescreen didn't work! "Matt is what Peter Doherty would look like if he'd just say no." Or something like that. Look, he's 17 and a good boy. Goes to church regular as Monty Python might say.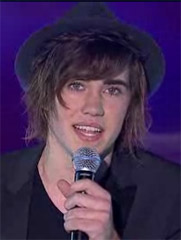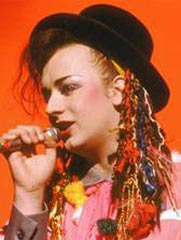 He was good but I wasn't that keen on his song choice… anyway he's a cert for the final.
This week it's between Carl and Natalie – and without Mark's big push can Natalie do it? I sure hope so.
Go Natalie! (oh yeah… I said that.)