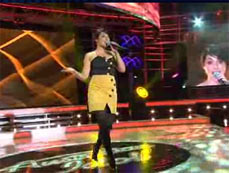 It's big band night on Australian Idol.  It's supposed to be Carl's night but it's Natalie who shines.
Carl sings Me and Mrs Jones wearing an untied bow tie and a shirt so thin you can see his shoulderblades.  "Cheap shirt" says Groover from the not-so-cheap seats, not now that we've got surround sound.  And isn't it worth it to hear the tenny-boppers screaming from behind us…
Then Marty whinges about this not being his night and slurs something that sounds a bit like music into the microphone.  He gets praised for trying.  He's very trying.
Matt goes for an Electric-shocked-Elvis hairstyle and sings, well really it doesn't matter the girls go mad.  I liked his silver jacket.
Then our girl stands up in a pretty weird dress it must be said… which doesn't quite work… but sings out of the park a Natalie Cole song… Under an Orange Coloured Sky. Wham Bam Thank you Ma'am.  She was outstanding.
Part 2.
Carl sings Kiss Me.  Meh.  Okay he knows how to work the band.  The waistcoat hid his shoulder blades but he looked worried half the time and I just didn't dig it.  You know what ah'm talkin' 'bout?
Marcia breaks the records for the most number of "digs" in one sentence.  Groan.
Marty gets on to sing Light My Fire.  I wish someone would set him on fire.   Can he really be a contender?  Awkward, laboured and largely pointless says Dicko.   I tried says Marty.  No you didn't!  You chose non-big band songs, and slouched your way through them.  It's beneath you to even have a go?  If you had tried, I might be feeling somewhat sympathetic because it is not your natural style but. you. didn't.  So don't give me the I tried…  Go back to the beach and pull your finger out.  
[I go and collect my cushions from where they have fallen after bouncing off the screen, get myself a cup of tea and settle back for Matt and Nat.]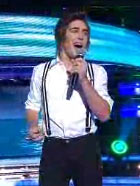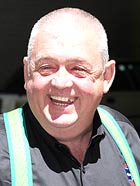 Matt sings Beyond the Sea.  Not sure the Joe McDonald braces work.  Not with jeans that tight.  OMG he skats!  Don't scat Matt.  Let me tell you something about braces… fat people wear them.  Fat old men.  Think union officials.  Think Santa.  Still we love Matt and he does an okay job.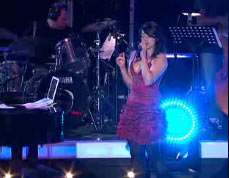 How high the moon?  As high as Natalie is after her brilliant second performance in a better frock.  I didn't even mind the scatting when she did it.  And that's saying something because as you know, I don't like the scat.  She scores a touchdown and a desperate plea from Mark Holden to the voting audience to keep her in the competition.
He knows what we know.  She is vulnerable.  She stood on a piano and still got in the bottom two last week.  My fear is that despite her doing brilliantly  – beating Carl at his own game – she will be out this week.
If life were fair it would be Marty.