I always vowed NEVER to get involved in my children's projects. Lets face it how are they to learn if they don't do it themselves. So worrying about presentation, buying coloured card, helping my child write neatly – that was never going to be me. It is after all their responsibility.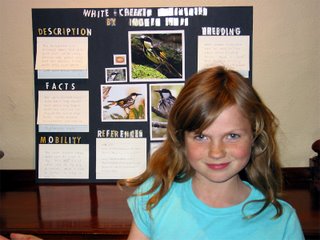 Okay, so she had some help. Yes I confess I did cut all the magazine letters out – who knew Star magazine had a purpose? Yes, I did advise a little on layout. Yes, I did suggest some sentence construction… but my girl did ALL the research. And that's the main thing. Isn't it.
Isn't it?
We both know A LOT about the White Cheeked Honeyeater now.
By the way how good is The Chaser? Brilliant satire. Worth hitting the website for a telling piece called "Muslim Photos" and of course the fab "Go Gary go".
What else? Who has time when you have assignments to do? Well actually I did go and see Clive James with WASO. I took my girl who sweetly fell asleep in the second half, on the floor at my feet. Must be all that homework tiring her out. It was a lovely if not challenging program and Mr James was as witty and urbane as ever.