Number one son has won an Aussie Award. This means he did something responsible and was recognised for it by his peers – in his case he found a used syringe in the playground and alerted a teacher. Sign of the times eh?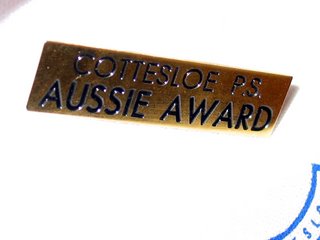 And the kids have had their swimming carnival – my daughter's first – they both did well getting PBs and winning some ribbons to take home.
I've spent the weekend gardening and cleaning out our spare room. I'm finding the weekly reticulation check strangely compelling. I roll out of bed of a Sunday morn – this Sunday still feeling the effects of some walking lunges at the gym on Friday and not bizarrely because of the alcohol of the night before – consumed in copious quantities at a friend's barbeque – and I get myself a coffee – expresso of course – and wander around the garden checking the retic.
Then every week there is bound to be a few problems so I'm in bathers right – and I fix them. It's very satisfying when each station does what it's supposed to. And before you say – you sad old woman – I know others find it as compelling as me so there.
Speaking of old… I found confirmation I'm nearing 40 – and it wasn't the grey hair on my head – DEPRESSING!
Speaking of work… we're currently in the throes of speculation… do other businesses have the same thing when one person may or may not leave? It makes for interesting times that's all I can say. I suppose (according to the papers) we'll find out tomorrow what the deal is.