Went to check out Shenton College last night. Very impressed with the school grounds and the students who spoke. The ATP program does sound excellent although talking to one parent who's daughter is an ATP Humanities student there, it doesn't sound as if it is universally loved by the students.
The job continues to be fun (makes it worse in a way that I didn't get it last year) and I am enjoying it while it lasts. It's good to work with my producers as well who are old friends and colleagues. Perhaps it would not be so fun if I had to do it every week and had the responsibility for providing ratings. No, I don't really believe that either. 🙂
Our kitchen looks fantastic! Colin has done a brilliant job. Apparently he didn't run out of glue the other day either. I must have misunderstood Rory – it happens!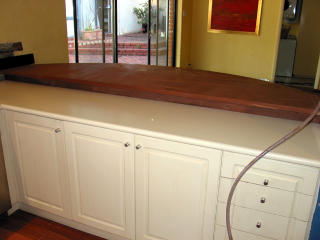 This is the breakfast bar – now we just need to find some stools!
That is Colin from Remill. Notice the feature square in the kitchen floor cunningly designed so that we can get our dishwasher out of its little hole if need be. The boards in front of it simply lift out.