I am so lucky to have the job that I have – take today for example… start the show with a delightful Lisa McCune – who is sweet as pie and very down to earth – much like Maggie Doyle her character on Blue Heelers was.
Then I get to talk about rocket, cuttlefish tentacles and – try not to gag – lamb sweetbreads, followed by a dose of insanity about getting your beer cold – science of course.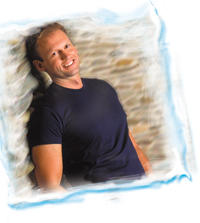 I meet a guy who talked about your soulmate – and that you are probably with him/her – he said a good partner is all about challenge and synergy. Then I meet a complete dreamboat opera singer who (without notice) sang on the radio, live – without music. It sent tingles down my spine. Breathtaking. If I wasn't taken… Sigh. Of course I looked very dowdy today – no makeup and doh! Forgot to take my wedding ring off… Too good looking to be available anyway I think! Oh who is he? Teddy Tahu Rhodes – currently performing in Don Giovanni in Sydney and with the WASO this weekend.
Apart from that I can report that Rory is getting bored at home. I've suggested he might like to take the whole year off – if we can keep financially afloat – simply because its probably going to be hard to take time off once he goes back to work. This might dismay his colleagues reading this but it's so nice for him to be at home. Selfishly – I like having a "wife", plus he is stuck with all the boring supervising work on the renovations which would be difficult to manage if one of us wasn't here. Anyway, Steven Biddulph in his book "Manhood" suggested that everyman take a year off when he is 40. It has been fantastic for the kids too who really appreciate him being at home (especially as their mother has become gym and work obsessed).
Speaking of my children – must be time to spend some quality time with them…